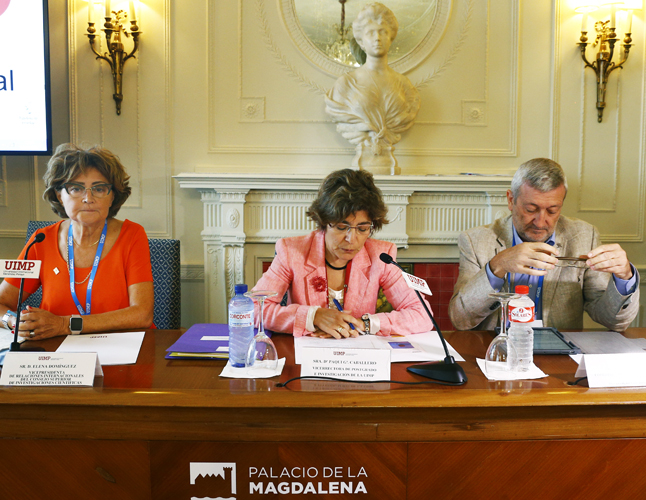 Santander.- El coordinador institucional de la Delegación en Bruselas del Consejo Superior de Investigaciones Científicas (CSIC), Jorge Velasco, la vicepresidenta de Relaciones Internacionales del CSIC, Elena Domínguez, y la vicerrectora de Postgrado e Investigación de la Universidad Internacional Menéndez Pelayo (UIMP), Francisca G. Caballero, han participado en el acto de clausura del encuentro Horizon Europe. The new Research and Innovation Framework Programme: Challenges and Opportunities que se ha celebrado esta semana en la UIMP, en colaboración con el Ministerio de Ciencia, Innovación y Universidades y con el CSIC.
Durante las tres jornadas del encuentro, los participantes han analizado la propuesta de la Comisión Europea (CE) para el próximo Programa Marco de Investigación e Innovación de la Unión Europea (UE) para 2021-2027, conocido como Horizonte Europa, y que sucede al actual Horizonte 2020.
Velasco ha indicado que "el Consejo quiere lograr un acuerdo sobre el Programa Marco para mayo", antes de las elecciones europeas. De manera que, ha continuado, si después de los comicios se producen cambios importantes el Programa Marco esté acordado, de lo contrario "no estará listo para 2020". En relación a las propuestas para Horizonte Europa, el coordinador institucional de la Delegación en Bruselas del CSIC ha reconocido tener más preguntas que respuestas, tras el debate de estos días. "Hay que tratar de solucionarlo, porque a los políticos no les gusta mucho este tipo de situaciones".
A continuación, Domínguez ha destacado que con todas las ideas con las que se ha trabajado esta semana se realizará un informe final que será publicado por la Fundación General del CSIC. Así, ha subrayado, la necesidad de dar respuesta a las cuestiones que se han tratado: "Los científicos tenemos que trasladar nuestras ideas para poder alcanzar los objetivos", ya que esta labor, ha añadido, es "muy relevante para la sociedad" y "forma parte del ADN de nuestro trabajo".
Asimismo, la vicepresidenta de Relaciones Internacionales del CSIC ha agradecido a la UIMP "hacer tan fácil el trabajo" durante la organización del curso, así como su papel "extremadamente activo". En este sentido, Domínguez ha trasladado el interés del CSIC de regresar al Palacio de la Magdalena para participar en los Cursos Avanzados.
Sobre esto se ha pronunciado la vicerrectora quien ha recordado que durante este verano la UIMP ha celebrado nueve actividades académicas junto al CSIC. Y es que, como ha apuntado, la relación entre estas dos entidades "se extiende más allá de este programa, ya que imparte una cartera de hasta cinco másteres oficiales y un programa de doctorado en Ciencia y Tecnología". Asimismo, ha añadido, "desde este año acompañamos al CSIC, como universidad de cabecera, en el programa Horizonte 2020".
Fotografías: Esteban Cobo | UIMP 2018